The winter brings cooler temperatures and, in some areas, snow, sleet and rain storms. What should you consider when looking for all weather outdoor furniture?
If you have outdoor patio furniture for your home, you may want to enjoy it during winter months near a cozy fire pit or heater. Businesses with patios can accommodate more guests with long-lasting furniture.
Avoid having furniture break down or needing to store or swap it out in the winter. Use this guide to patio furniture that can be left outside in the winter so you can make a better investment that's usable and durable throughout every season.
Common Challenges Outdoor Furniture Faces in Winter
Winter moisture from rain, sleet and snow can lead to big problems for some types of furniture. Mildew, mold and rot can invade furniture types like wicker and wood. Moisture and freezing can also cause certain types of furniture like metal and aluminum to expand and warp.
Moisture can also damage cushions, which are typically needed to make furniture like wicker, woven resin, metal, and aluminum pieces comfortable. For protection, you'll have to store or cover cushions and furniture before they get snowed and sleeted on. That's an inconvenient hassle.
Harsh winter storms can blow flimsy furniture around. Lightweight furniture like plastic, wicker, woven resin, aluminum, and metal can get destroyed or fly into your house or business. If guests are near, they could get injured.
Even in mild environments, another winter furniture consideration is how it will be used. It may not be snowing at the moment, but if your guests have played in the snow and then sit down on the furniture, it's going to get wet. Is the furniture suited to staying wet?
Yet another winter element you need to consider is wildlife. Animals that are more active in winter seasons can damage your furniture. Squirrels and insects could gnaw on it. Spiders may nest inside. That's dangerous for families and guests.
Also, be mindful of potential furniture hazards like fire pits. Heat and floating embers can ignite wood furniture or melt or warp cheap plastic furniture.
When furniture isn't designed to withstand winter environments (or it's just poorly designed overall), it can result in costly furniture maintenance, repairs and replacements. It's a better idea to get furniture that's built to last in snow, sleet, you name it.
Features to Look for in Outdoor Furniture for Winter Climates
The best outdoor furniture for winter climates will be durable, comfortable and low-maintenance. It's not fun to have to constantly go out in winter weather to tend to your furniture. Consider the following qualities for long-lasting winter furniture.
Moisture-resistant: Winter furniture shouldn't be affected by moisture from rain, snow and everything in-between. Outdoor furniture should be resistant to rotting or growing mold or mildew due to wetness.
Strong: Winter furniture should be strong enough to stay put in windy conditions. It also shouldn't crack or break when it's weighed down by a snowstorm.
Pest-resistant: You want winter furniture that's not appetizing to pests like insects and rodents.
Convenient: Outdoor furniture should be able to be enjoyed during the winter without a lot of cleaning, storage or repairing required. It's even better when you don't have to worry about adding cushions to it to make it comfortable. Whether you live with your furniture, are furnishing a home for rental, or are using outdoor furniture at a business like a ski resort, it's a lot easier when you don't have to cover it to protect it.
Stylish: Finally, you want outdoor furniture that retains an amazing appearance no matter what winter throws at it. Winter outdoor furniture should retain its color and be chip, crack, peel, rot, sand, and dent-resistant, in order that it always looks good as new.
So what's the type of patio furniture that can be left outside in the winter? Only HDPE plastic furniture contains all these winter-friendly qualities. Breezesta furniture is made from recycled HDPE plastic, so it's sustainable too, saving our oceans, rivers, and land from plastic pollution!
Benefits of HDPE Plastic Furniture for Winter Climates
HDPE plastic furniture is strong, low-maintenance, beautiful, and very durable. It doesn't attract pests or insects. It's not prone to rotting and isn't susceptible to mold or mildew.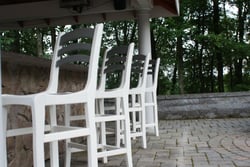 You don't need cushions to get comfortable on it. You can leave it uncovered in any weather. Because it's nonporous and very heavy it can withstand the winter elements. Snow and rain won't affect its form or function. HDPE plastic furniture has a significant strength-to-density ratio, too. It won't blow away in the wind and has a commercial rating to withstand lots of use. It's even fun! You can design Breezesta furniture in 20 different colors to match your outdoor space. From durability to style to convenience, HDPE plastic furniture from Breezesta is no-fuss for the winter.
Get High-Quality Winter Furniture from Breezesta
Breezesta offers a set and forget approach to winter furniture. It works well in all seasons and environments, so you can outfit your home or business in furniture your guests will love.
Shop our collection of premium, recycled HDPE plastic furniture.