Furnishing a home is one of the most significant investments you make, according to "Business Insider." It makes sense. Furniture's where you gather, socialize, relax and unwind. It gives you a place to rest and enjoy the view – and the weather, especially when you're outdoors.
Imagine if you had to replace your furniture every season. Issues like weather, pests, sunshine and environmental elements like ocean spray or falling leaves can all take a toll on outdoor furniture.
When furniture gets dirty or damaged as it moves through the seasons, it doesn't look as nice as it once did. Sometimes furniture can even warp if it's in the heat or freezing cold.
You also want furniture that looks great in whatever type of home you're in. It's a pain to have to buy new furniture every time you move in order to match the style.
Protect your investment with furniture that looks good-as-new all year long. Wondering what are the styles of furniture for all seasons? As you research all weather outdoor furniture considerations, here's how HDPE plastic stands apart from other materials.
1. Durability
Rain, snow, heat, wind, ice and dust can all wear down furniture. Lightweight furniture can also blow away in inclement weather or get destroyed in storms and hurricanes.
Another all-season furniture consideration is animal activity. When animals are more active during certain times of year, they can wreak havoc on your furniture. Some pests and insects love to feast on wood. Wicker, a natural material made of rattan or cane, is also prone to being gnawed on or nested in by animals like spiders.
HDPE plastic furniture has a remarkable strength-to-density ratio. It's heavy enough to not blow over. It's strong enough to withstand whatever environmental elements it encounters.
It always looks in pristine condition because it's tough and very easy to care for. Its appearance is just like wood, but without all the problems. You get both style and performance with HDPE plastic furniture.
2. Color
Furniture always looks new if clean and with uniform color. But did you know that furniture can fall prey to fading from the sun and rusting in coastal areas from the ocean salt spray in the air. Salt spray can even rust some stainless steel hardware. It is important to pay attention to manufacturer recommendations. When iron and aluminum furniture paint chips, the result is usually unsightly rusty furniture as well. Wood furniture, typically painted or stained, is also prone to fading and chipping over time. When furniture like wicker or metal requires cushions for comfort, the cushions can also fade in the sun. Buying top quality sun-resistant fabrics is key.
HDPE furniture is a terrific solution to fading problems if the HDPE is made with Ultra Violet (UV) inhibitors and stabilizers to preserve the color pigments. Although some fading will occur over time, it typically will be hard to see with the naked eye. Plus, if you like to express yourself with color or create a color theme, HDPE typically comes in a variety of bright or earthy colors. Breezesta enables you to choose from 20 different colors, so you can perfectly match the outdoor aesthetic you're going for. If you choose 2-tone furniture, meaning a different color for the frame and slats, with Breezesta it's good to know that there are no restrictions in the combinations you choose.
3. Maintenance
Most outdoor furniture requires heavy-duty cleaning and storage to stay intact. Wicker requires a sealant or finish. Metal and aluminum furniture needs wax. Wood requires oil, a varnish protector, or a fresh coat of paint.
You'll have to cover or store furniture that will get damaged in whatever weather it's experiencing. If your wicker furniture's outside and a storm rolls in, you'll have to protect it by storing it or securing it down. When cushions aren't in use, they'll need to be stored if you don't want them to get dirty or succumb to mold or mildew.
When most types of furniture get damaged (which they will), you'll have to repair or replace them. Rust has to be scrubbed away, then the furniture will need to be repainted. Inexpensive furniture, like cheap plastic, will probably have to be replaced every year if you care about its condition and look.
HDPE plastic furniture requires very little maintenance. Because of its strength and plastic material, it's not susceptible to common seasonal hazards. You don't need to cover it or store it. You can leave it outside from snow to sleet to heat.
4. Comfort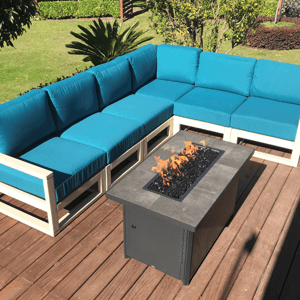 Certain types of furniture are downright painful depending on the season – like metal in the hot summer sun.
Other types, like wicker or aluminum, will have you on your feet instead of in your seat because they're so irritating to sit on. You'll have to purchase extra cushions just to make them functional.
HDPE plastic can be designed for everyone. Although, not all manufacturers prioritize comfort. Breezesta premium recycled HDPE furniture has elegant, contoured designs created with comfort and relaxation in mind. Have a seat and try it out! Unless you've purchased a deep seating set, you don't have to buy extra cushions or warn guests about burning themselves like you might with metal. Just sit down and enjoy the convenience of cushionless-comfort!
5. Style
From mountain log cabins to beach houses and everything in-between, HDPE plastic furniture is the most versatile style around. In customizable colors, you can build an outdoor patio set you love that complements all types of homes.
Coastal
Coastal outdoor furniture is all about relaxing and embracing the breezy beach vibe. Adirondacks, swings, rockers and gliders bring out a laid-back side. While ocean water and sand particles can damage outdoor furniture styles like metal, aluminum and wood, they have little effect on HDPE plastic furniture. Shine as much sun as you want on HDPE plastic furniture – it's made for the beach!
Farm house
Farm house style exudes natural, which is why wicker and wood styles complement these homes well. But with problems like animals, pests and rotting due to seasonal elements, wood and wicker aren't as practical as HDPE plastic. Breezesta has HDPE plastic furniture for dining and relaxing in dozens of styles and color combinations to perfectly fit your space.
Rustic
Like farm house, rustic and cottage cabin homes pair well with natural-looking furniture. HDPE plastic furniture from Breezesta has a natural wood look but is so much stronger and more durable than real wood furniture. Plus, it's more sustainable. Since it's made with recycled plastic, it doesn't require chopping down any trees. You just get to enjoy their view from your home while lounging on your outdoor furniture.
Mid-century modern
HDPE furniture perfectly matches mid-century modern style. Plastic material was frequently used by mid-century modern designers, and now you can bring the look outside too. Go as bold as you want with the colors, or stay neutral. HDPE plastic furniture evokes style and exemplifies one of mid-century modern's main principles: the importance of functionality.
Breezesta Furniture Weathers All Seasons
Breezesta HDPE plastic furniture is the perfect blend of performance and beauty. You can enjoy a garden bench in the spring and get cozy around a fire pit in the winter. With so many colors and designs to choose from, it's easy to select a furniture collection that complements your home and that you and your guests will love season after season
Check out our collection of sustainable furniture now or search our retail suppliers to find a location near you!